All the Ingredients Food and Agribusinesses Need
Logansport, Indiana resides in the heart of farm country. Cass County is home to more than 600 farms, large and small, that produce enormous amounts of corn, soybeans, wheat, vegetables, and fruits in addition to hogs, dairy cows, eggs, and poultry. Food manufacturers locating here will enjoy easy access to these vast and varied agricultural commodities and can also count on power that is reliable and affordable, along with plenty of clean, high-quality water supplies and wastewater capacity.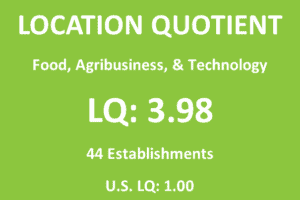 With so many of the needed inputs nearby, food processors here can get their finished products into warehouses, distribution centers, and cold storage facilities very quickly. Our extensive railroad system ensures that they can also get fast, easy access to any other inputs they need. And, with the county's network of highways fanning out in all directions, food producers can have their products on grocery store shelves in large consumer markets within a 600-mile radius in just one day.
Businesses that support the agriculture industry, such as equipment manufacturers, agri-chemical manufacturers, and seed companies will also find a large and healthy market here with the thousands of farms here in the Hoosier Heartland.
Logansport and Cass County have a history firmly rooted in farming that goes back many generations. Workers here understand and respect the roles that agriculture and food production have in our economy and are proud to play a part in feeding the world. They come not only with the skills they need to succeed but also bring to their jobs an unparalleled work ethic. Unionization rates are very low here, and Indiana is a right-to-work state.
We have planted all the seeds for your success. Click on the link below to see how we grow business here in Logansport and Cass County, Indiana.